The College of Innocent, whose name comes from Pope Innocent X Pamphilj, was constructed during his pontificate (1644-1655) for the purpose of preparing young boys born on the Pamphilj properties for the ecclesiastic life.
The children arrived in Rome at the age of seven and lived in the college while continuing their studies at the Roman schools; their expenses were covered by the first born prince. Based on the Pamphilj patronage, the family could also choose the cardinal protector of the church as well as the rector and officiating clergy.
According to tradition, the typical welfare institution seems to have been the wish of Olympia Maidalchini rather than that of Innocent X. She dedicated herself to the Pamphilj buildings from 1653 (the year she was re-admitted to the pontifical court following a period of disgrace) until 1656 when she was sent away from Rome by the wish of Alexander VII (Chigi).
Built on the western side of the square, the building complex was part of a program of normalization of the site by the Pamphilj pope with the objective of transforming Piazza Navona into the family island. It was built on the area of the ancient Rivaldi palace bought from the Ornano family in 1653.
In 1654 the old building was demolished to build the sacristy of St. Agnes in Agone and the College. Francesco Borromini, the architect, already worked for the Pamphilj's on the princely palace in Piazza Navona.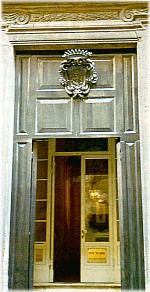 Entrance to "Collegio In-
nocenziano", present day
Centro Pro Unione