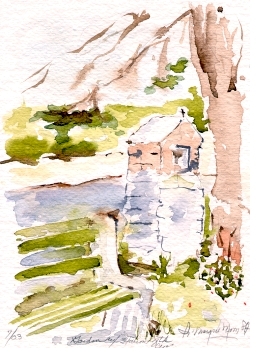 The triangular garden behind the crucifixion scene continues the theme of the Passion and Death of Christ. A statue depicts Him in the Garden of Gethsemani and another in the arms of His mother at death (the Pieta). Seven-foot-high Stations of the Cross, mounted on stone pillars and encased in brick, line the garden, which is surrounded by towering pine trees.
A shrine to Our Lady of the Atonement dominates the far end of the garden. Father Paul gave this title to the Blessed Mother to honor her at the foot of the cross. Within the shrine are some of Graymoor's richest stained glass windows. They depict symbols of the Passion and Death of Christ and the Franciscan Order.
The shrine, which was constructed by a homeless man from St. Christopher's Inn in 1921, is decorated outside with the four Angels of the Atonement.