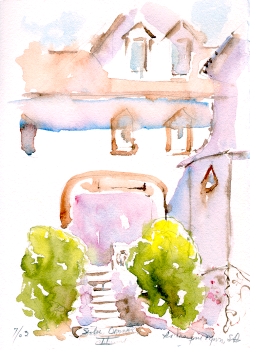 St. Francis Convent, the second domicile of the Sisters, was dedicated in October 1899. Countless homeless men knocked on its door for food and drank from its well. The convent contains Mother Lurana's suite of rooms (she died here) and the Heritage Room, replete with items from her life.
Our Lady of the Angels Chapel, named after the tiny one in Assisi, which St. Francis made the official chapel of the Friars Minor, occupies the first floor of the convent. Featuring a rood screen and a bell tower rope that dangles in the sanctuary, the chapel boasts a stained glass window honoring St. Gregory the Great, from whom Gregorian Chant gets its name. In the sanctuary stands the very first statue of Our Lady of the Atonement installed at Graymoor.
The chapel was the scene of Father Paul's investiture in the Franciscan habit, Mother Lurana's profession of vows, the first Church Unity Octave observance and the reception of the Society of the Atonement into the Roman Catholic Church.