Erected in 1875 as an interdenominational chapel of ease and originally called St. John's-in-the-Wilderness, the church slipped into disuse over the years and became a stopover for the homeless. In 1893, three Episcopalian women visited the abandoned church and renovated it the next year in the spirit of St. Francis of Assisi, who repaired San Damiano Church. The women called the church and its 3/4 acre, "Graymoor," taking the first part of the name from the Rev. Albert Zabriskie Gray, Rector of St. Philip's Church in Garrison,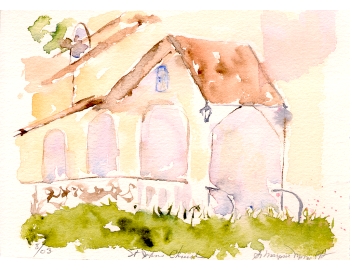 under whose jurisdiction the chapel was; the second part from William Moore, a Warden of St. Philip's, who contributed $500 to build the edifice.
The church and property were then offered to Mother Lurana and Father Paul as a place to begin the Society of the Atonement.
Flanking the interior of the church are eight stained glass windows, depicting the patrons of the Society of the Atonement: Our Lady of the Atonement, St. John the Baptist, St. Joseph, St. Peter, St. Paul, St. Francis, St. Anthony and St. Clare. A huge circular window of Christ the King, surrounded by symbols of the four Evangelists, commands the back of the church. The basic Scripture text of the Friars and Sisters of the Atonement, "We joy in God through our Lord Jesus Christ, through Whom We have now received the Atonement," (Rom. 5:11) spreads across an overhead-crossbeam.
St. John the Baptist Church provides Sunday Masses for area residents.