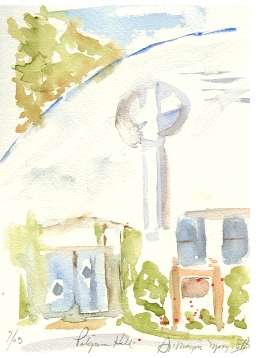 Constructed in 1950 as a "temporary chapel" to accommodate pilgrimage crowds, Pilgrim Hall still stands. A marvel of architectural beauty with huge Douglas-fir beams from Washington State spanning the expansive ceiling and supporting it — without the aid of a single pillar — the chapel seats 600.
A massive icon of Christ Pantocrator, seated on a throne, hangs behind the altar while one on the Transfiguration decorates the back wall. Sunday Masses are celebrated here for area residents.
Outside Pilgrim Hall stands the Altar of the Atonement, surmounted by a 16-foot-high crucifixion scene. Flanking the altar are Stations of the Cross that lead down to the colossal 31-foot-high Shrine of St. Anthony.